A guide to London: Part 1...The South Bank
This is the first in a series of posts to give you an insider´s guide to London...
helping you plan your time during your city break as well as telling you about secret spots, markets, cafés, shopping, bars and restaurants...
Take a walk along the south bank to experience the old London town.
By Alice Tait shop @notonthehighstreet.com
Start at one end of the walk (Westminster bridge or Tower Bridge) and follow the river as it bends around from Big Ben to the Tower of London.
1.
Borough Market
is now internationally reknowned and is found at London Bridge. Stop for street-food (burgers and pimms!) and browse the market stalls for delicious, home-made British & international food.
The full market is open from Wednesday to Saturday and is worth making the trip.
@lascallesdebcn
Borough Market @lascallesdebcn
Vedett bar @lascallesdebcn
Have a beer or glass of wine in the sunny (sometimes) courtyard of one of the oldest pubs in London. Just around the corner from Borough Market, the
George Inn
serves pub food & drinks from 11am.
The George Pub @lascallesdebcn
If you´re in more of a coffee and cake mood, no better place than
Monmouth coffee shop
just outside Borough Market.
2. Although it´s not actually on the South Bank, simply cross Tower Bridge to see the beautiful art installation at the Tower of London.
The Blood Swept Lands & Seas of Red
project involves 888,246 ceramic hand-made poppies representing those who died in the First World War and can be seen until November 11th 2014. Free to view, impressive and moving.
Tower of London @lascallesdebcn


Tower Bridge @lascallesdebcn
3) One for the instragrammers! Shad Thames is one of the most photographed places in London as well as making you feel like you´re on the set of Sherlock. Continue along the south bank and you´ll walk the cool, cobbled streets of Shad Thames (below). On the other side, you´ll find 2 of London´s biggest attractions,
Shakespeare´s Globe Theatre
and the
Tate Gallery
if you´re looking for a touch of culture.
Shad Thames (pinterest)
4) At the end of a long afternoon of walking, head up to where the locals go for afterwork drinks at the
SkyLounge bar
with views over London or stop for dinner in the hidden
St. Katherine Docks
.
St Katherine Docks
Skylounge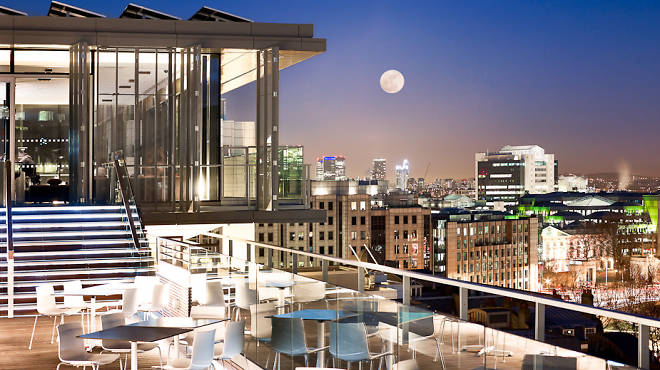 Skylounge @doubletreehilton hotel
Romantic and beautiful, a great way to see some of the most impressive sights whilst eating & drinking along the way...
The South Bank (Pinterest)