Secrets of the Costa Brava
Picturesque hilltop towns, turquoise waters and sandy cove beaches...
Pals (@lascalledebcn)
Baix Empordà has been referred to as the Tuscany of Catalunya, with its walled hilltop towns, beautiful stone masias and stretching sunflower fields it´s easy to see why. Pals and Begur are only 1.5 hours by car or a train ride from Barcelona and as well as being a beautiful place to discover, they´re great spots for a holiday with friends or family.
Pals (@lascallesdebcn)
It´s possible to visit Pals in a day. The winding cobbled streets lead up to the main square where the church sits, and there are plenty of little cafés or shops to browse in on the way. For kids, the mini train makes the trip to the top of Pals a little more fun. TIP: Walk around the back of the church to see great views over the Mediterranean.
Pals (@lascallesdebcn)
Drive fifteen minutes towards the coast and you´ll find Begur. Another pretty town with great bars and shops and a real community feel. The walk up to the castle at the top of Begur is highly recommended - (only just realised this recently!) as the views over the Mediterranean and the Islas Medas are stunning.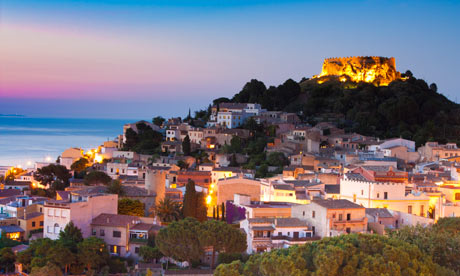 Begur at night (The Guardian)
Begur has 8 different coves and beaches, all with different characteristics. Aiguablava is one of the prettiest but it does get crowded in the summer months as it´s quite small. Platja Fonda only has sun in the morning (thanks Bea!) and Sa Tuna has a lovely
restaurant
for relaxing and eating whilst taking in the views.
TIP: Go to the beach during the Catalan lunchtime - around 3pm then it´s usually less busy.
Aiguablava Beach (@lascallesdebcn)
Aiguablava Beach (@lascallesdebcn)
Begur has a number of fantastic hotels to stay in. Many in the centre and others on the roads heading down towards its many beaches. Being in the centre in hotels like
Petit Convent
,
Hotel Classic
and
Sa Calma
is perfect for those who like to walk out of the hotel and be right in the midst of it, and if you don´t have a car, it´s perfect. TIP: There are regular bus runs down to the beaches from Begur.
Beautiful Sa Calma Hotel
We stayed at the recently opened
Es Cel de Begur
, the sister hotel to Sa Calma, which is ideally located overlooking the sea. With only 8 rooms, it has a boutique feel and having breakfast by the pool with these views makes you really happy!
Es Cel (@lascallesdebcn)
Es Cel (@lascallesdebcn)
Es Cel (@lascallesdebcn)
Begur from Barcelona is 135kms, which is about 1.5 hours by car. By
train
you can travel to Flaça (30 km from Begur-1.5 hours approx. 10 euros) then take a taxi or bus, or you can take a
bus
directly to Begur from Barcelona (about 3 hours and 21 euros)
There are many many more beautiful villages and beaches in the Costa Brava, and soon I´ll do a post on others, but for me, Pals and Begur are the best. xxx
Click here to read about
a luxury hotel right on the beach
&
stunning coastal walks in the Costa Brava...