A Sunday in Sant Antoni
Walking around the Sant Antoni area of Barcelona is a great way to spend a sunny but fresh autumn day. For those who want to see more than just the centre or typical sights of Barcelona, the Sant Antoni neighbourhood sits just a 10 minute walk from Plaza Catalunya in the centre of town.
I´d say it´s an up-and- coming area of the city with its new urban cool cafés & rustic bars, but it also attracts traditional crowds with its antique book market, buzzy Sunday atmosphere and drinks by beer barrels type of bars!
Mercat de Sant Antoni
The beautiful structure of the Sant Antoni market sits proudly in the middle of the neighbourhood but is sadly not yet re-opened as it´s under construction until July 2015. While this is happening the food market has temporarily moved 2 minutes walk away to the Ronda Sant Antoni where you can buy everything from fresh lobster to prepared tapas take aways. Great for foodies.
Rekons
First stop has to be
Rekons
for a quick home-made Argentinian empanada, café con leche and blueberry muffin. Sit in the sun and watch the world go by.
Dai-Mo
Dai-Mo
, a recently opened Italian restaurant is also a good option for a mid-morning stop or also a late-evening fresh pasta dish.
Serious graffiti in Sant Antoni
If you´re into old-school comics, video games or just like browsing old books (mainly in Catalan!) then head to the vintage book market on Carrer del Comte d´
Urgell
(Sunday mornings until 2pm).
One of the main roads where you can find new bars and restaurants or great brunch stops is on
Carrer del Parlament
, a 5 minute walk from the market (above).
Federal Café
is an excellent place to have lunch with friends and also has a pretty open roof terrace for summer days. As it´s very popular with the young locals, it does get busy on a Sunday morning so you either have to be prepared to wait or head back later. It does lovely smoked salmon sandwiches, chicken burgers, chips and also healthy options.
Federal Café
Keep walking along Carrer del Parlament and you´ll find Bar
Calders
. A busy wee place with a range of tapas and a terrace to meet up with friends. Friendly atmosphere and good gin tonics!
Tarannà
is a bar and cafe where you can try Catalan style dishes with fresh seasonal food. Another great place on Parlament Road where you can sit on the terrace and enjoy a bite to eat.
If you don´t want to sit and eat a big lunch, then make a stop at
Bodega Vinito
, a specialist wine bar where you can have a wine of your choice and a little tapa standing by a barrel. The atmosphere is always lively and people sprawl out onto the street to enjoy their late morning vino (why not?).
Bodega Vinito
If you´re looking for a seat and something a little quieter, then Bar Rosso at
Hotel Market
, in between Urgell and Villaroel roads, is the perfect option. Although the actual passeig in which it´s located is not the prettiest, you forget that when you sit on the terrace. Great coffees, small evening dishes and cocktails. If you want a simple and well-priced dinner, the restaurant offers just this and is a good option if you´re with a big group.
The terrace at Bar Rosso (Hotel Market)
If you want a cold beer and like trying locals brews, then head to the
Moritz factory bar
in
Ronda Sant Antoni
. A fantastic buzzy restaurant, wine bar, factory and shop!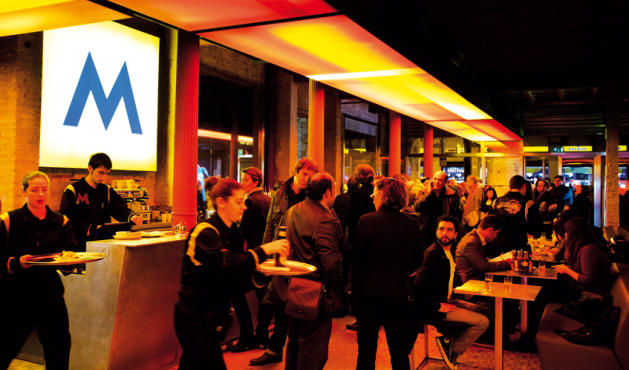 Moritz Factory Bar and Restaurant
On the edge of the Sant Antoni neighbourhood you can find great sushi and fusion Japanese food in elegant surroundings at
Ikibana
. The food is delicious and you can eat anytime of the day. Try the lobster uramaki!
For the best burger in Barcelona, you HAVE to try
Umami
in
Calle Floridablanca
. Top personal recommendations are the Cheese Bacon, Ñam-Ñam (with fried egg so ace for hangovers), the Argentina Burger with provolone and chimichurri mayonnaise or the 5 taste mini-burgers. Great way to end your weekend!
If you fancy a film, check out what´s on at the
Renoir cinema
(see list here) on
Floridablanca
Road to see a blockbuster or independent film in English (or original version) with Spanish subtitles. Quite often new films are released here quite a bit before being released in the UK so it´s worth a look.
Here ends my walk around Sant Antoni. Although it´s not the prettiest area of the city (not like Passeig de Gracia or the Born), it has some great bars and restaurants, and like many cities it´s worth discovering other neighbourhoods away from the tourist traps that have a lot to offer and make a trip to Barcelona a little different.
(By the way, if you like cookies, head to
Blat
bakery on Villarroel, 28 for the best giant white chocolate chip cookies ever!!)